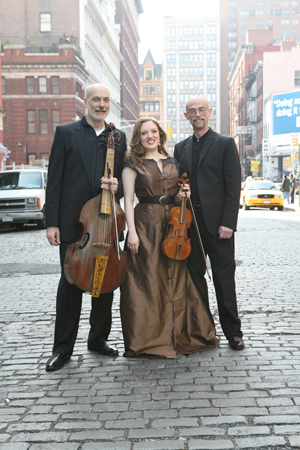 Trio Settecento's passionate and authoritative interpretations renew the pleasures of hearing beloved music from the Age of Enlightenment while also revealing the delights of new discoveries. Imagination, vigor, technical polish and historical insight have made the Trio's performances appealing to audiences and critics alike. Performing on antique instruments of rare beauty and expressive power, these three virtuosi breathe life into musical masterpieces that capture the dramatic intensity of the Italians, the poetic gestures of the French school, and the profound humanism of J.S. Bach.
Trio Settecento's 'Grand Tour' recordings for Cedille Records survey 17th- and 18th century chamber music of four nations (Italy, Germany, France, and England). Said Classical North Carolina, "This is the finest recorded set of historically-informed Baroque period recitals that I have ever encountered." Wrote Gramophone of An Italian Sojourn, "There isn't a piece that doesn't impress." Praised Strings magazine of A German Bouquet, "The music is lovely, and the playing exceptional." For A French Soirée, The Strad found the Trio had "ravishing form…Magic moments abound." Of An English Fancy, Listen magazine said there are, "eighty minutes of labyrinthine delights here in which to lose yourself." In 2015 Cedille Records released the Trio's complete recording of Francesco Maria Veracini's monumental Opus 2, 'Sonate Accademiche'.
Trio Settecento was formed after Rachel Barton Pine, John Mark Rozendaal and David Schrader came together in 1996 to record the complete violin sonatas of George Frederick Handel. Critical acclaim for that disc led to period-instrument recitals throughout the U.S., including their New York debut at the Frick Collection in 2006 and their 2007 Boston debut presented at Jordan Hall under the aegis of the Boston Early Music Festival. The Trio has appeared as a featured ensemble at the Boston Early Music Festival, the Frick Collection, the Chicago Early Music Festival, Columbia University's Miller Theatre, Dumbarton Oaks and Houston Early Music, the Indianapolis Early Music Festival, and the Chamber Music Societies of Detroit and Buffalo.
Rachel Barton Pine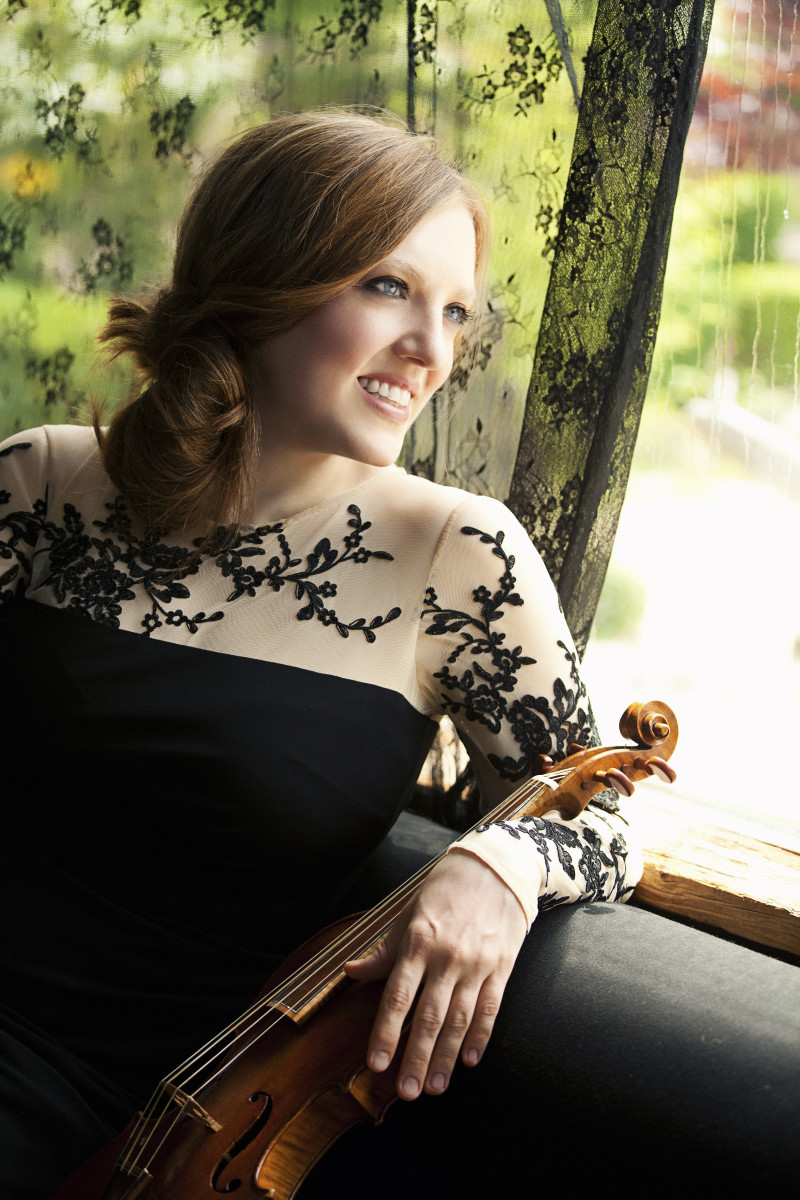 Violinist Rachel Barton Pine has an extraordinary gift for connecting with people. Recognized as a great interpreter of classical works, her performances combine a scholarly fascination with research with an innate gift in communicating emotional nuances. Audiences are thrilled and uplifted by her dazzling technique, lustrous tone, and infectious joy in music-making. She plays with passion and conviction and her work as a philanthropist continues to inspire the next generation of artists.
Pine has appeared as soloist with many of the most prestigious orchestras, including the Chicago, Montreal, Atlanta, and Baltimore Symphonies, and the Philadelphia Orchestra. Overseas, she has performed with the Vienna, New Zealand, Iceland, and Budapest Symphonies; the Royal Scottish and Belgian National Orchestras; the Mozarteum, Scottish, and Israel Chamber Orchestras; the Royal, Calgary, and Russian Philharmonics; and the Netherlands Radio Kamer Filharmonie. She has worked with renowned conductors Charles Dutoit, John Nelson, Zubin Mehta, Erich Leinsdorf, Neeme Järvi, Marin Alsop, Placido Domingo, and Semyon Bychkov. Her festival appearances include Marlboro, Ravinia, and Salzburg.
Pine holds prizes from leading competitions, including a gold medal at the 1992 J.S. Bach International Violin Competition in Leipzig, Germany, making her the first American and, at age 17, the youngest performer to win this honor. Other top awards came from the Queen Elisabeth (Brussels, 1993), Kreisler (Vienna, 1992), Szigeti (Budapest, 1992), and Montreal (1991) international violin competitions. She won the prize for interpretation of the Paganini Caprices at both the 1993 Paganini International Violin Competition in Genoa and the Szigeti Competition.
"One of the rare mainstream performers with a total grasp of Baroque style and embellishment" (Fanfare) and "a most accomplished Baroque violinist, fully the equal of the foremost specialists" (Gramophone), Pine has been involved in historically-informed performances of early music since age 14. Named to the Board of Directors of Early Music America, she has collaborated with many leading artists including David Douglass, Elizabeth Wright, Marilyn McDonald, Gesa Kordes, Temple of Apollo, and the Chicago Baroque Ensemble. She made her debut on the viola d'amore with Ars Antigua in 2007 and on the rebec in 2009 with the Newberry Consort in concert in Chicago and at the Madison Early Music Festival.
Pine writes her own cadenzas and often performs her own arrangements. With the release of The Rachel Barton Pine Collection of Original Compositions, Arrangements, Cadenzas and Editions, she became the only living artist and first woman to join the ranks of great musicians like Fritz Kreisler and Jascha Heifetz by having her compositions and arrangements published as part of Carl Fischer's "Masters Collection" series. She is Music Advisor and Editor of Maud Powell Favorites, the first published compilation of transcriptions, cadenzas, and compositions closely associated with Powell. Pine is committed to encouraging the next generation of artists and audiences. Her Rachel Barton Pine Foundation assists young artists through various projects including the Instrument Loan Program, Grants for Education and Career, Global HeartStrings, and a curricular series developed in conjunction with the University of Michigan: Music by Black Composers. She is a Life Trustee of the Music Institute of Chicago, which named the "Rachel Barton Pine Violin Chair" in her honor.
For more information, please visit rachelbartonpine.com.
John Mark Rozendaal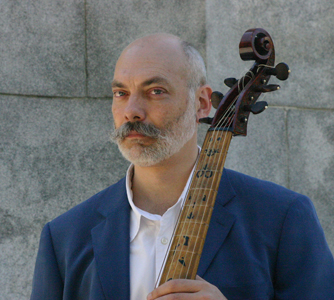 John Mark Rozendaal specializes in teaching and performing stringed instrument music from the Baroque and Renaissance eras. As founding Artistic Director of the Chicago Baroque Ensemble, Rozendaal performed and led seven seasons of subscription concerts, educational programs, radio broadcasts, and recordings for the Cedille and Centaur labels. Rozendaal served as principal 'cellist of The City Musick, and Basically Bach, and has performed both solo and continuo roles with many period instrument ensembles, including the Newberry Consort, Orpheus Band, King's Noyse, Boston Early Music Festival Orchestra, and Soli Deo Gloria's Chicago Bach Project. In addition to his work with Trio Settecento, Rozendaal performs as a member of Brandywine Baroque Ensemble and LeStrange Viols. Rozendaal's viola da gamba playing has been praised as "splendid" (Chicago Tribune) and "breathtaking" (Sun-Times).
A dedicated teacher, Rozendaal is in demand as a workshop instructor and often joins the faculties of the Viola da Gamba Society of America Conclave, Viols West's annual workshop, Amherst Early Music, Madison Early Music Festival, and the Music Institute of Chicago's annual Baroque Festival. Rozendaal teaches private lessons and Viola da Gamba Dojo classes at his studio in Manhattan.
For more about John Mark Rozendaal, please visit jmrozendaal.com.
David Schrader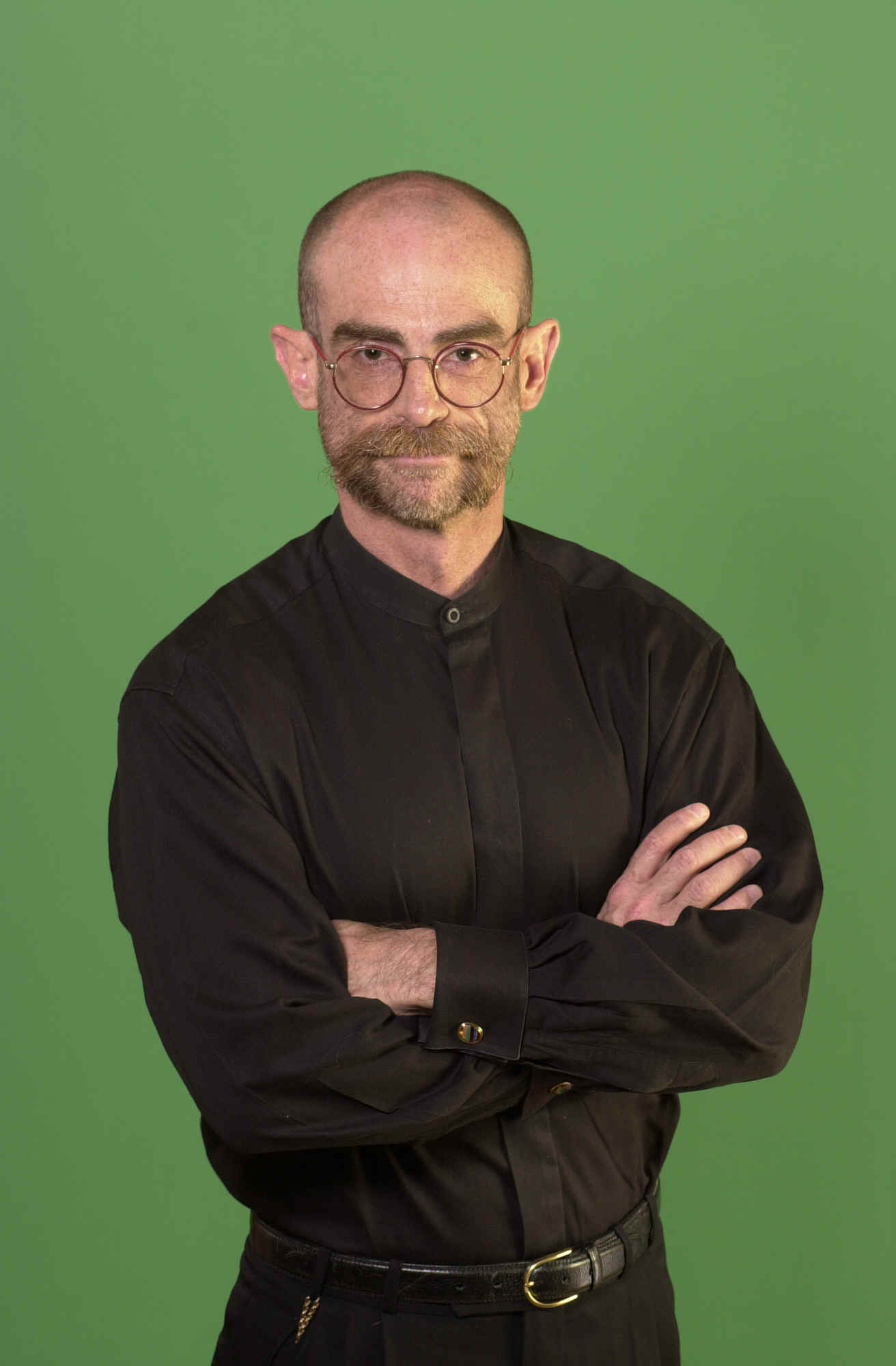 Equally at home in front of a harpsichord, organ, piano, or fortepiano, David Schrader is "truly an extraordinary musician…(who) brings not only the unfailing right technical approach to each of these different instruments, but always an imaginative, fascinating musicality to all of them" (Norman Pelligrini, WFMT, Chicago). A performer of wide ranging interests and accomplishments, Schrader has appeared with the Chicago, Dallas, San Francisco, and Colorado Symphonies, and appeared as a soloist at four national conventions of the American Guild of Organists (1984, 1994, 1998, and 2006). He has also performed at the prestigious Irving Gilmore Keyboard Festival (playing separate concerts on organ, harpsichord, and clavichord) and at the Ravinia Festival; Aspen Music Festival; Oulunsalo Soi Music Festival in Oulu, Finland; Michigan Mozartfest; Boston Early Music Festival; Santa Fe Chamber Music Festival; Connecticut Early Music Festival; Manitou Music Festival; and as soloist and conductor at the Woodstock (Illinois) Mozart Festival.
A resident of Chicago, Schrader performs regularly with Music of the Baroque, the Newberry Consort, and Bach Week in Evanston. He has also appeared with The Chicago Chamber Musicians, Contempo (f.k.a. the Contemporary Chamber Players), the Chicago Baroque Ensemble, and The City Musick. He is a frequent guest on WFMT's "Live From WFMT" series of broadcast in-studio performances and a founding member of Baroque Band, Chicago's period-instrument orchestra. Schrader is on the faculty of Roosevelt University's Chicago College of Performing Arts. For nearly thirty years, he has been the organist of Chicago's Church of the Ascension.
For more about David Schrader, please visit davidschrader.com.